February 24, 2020
Tech Fabric receives 5 stars on Clutch Profile
By: Alyona Beliashova - Manager - Europe Operations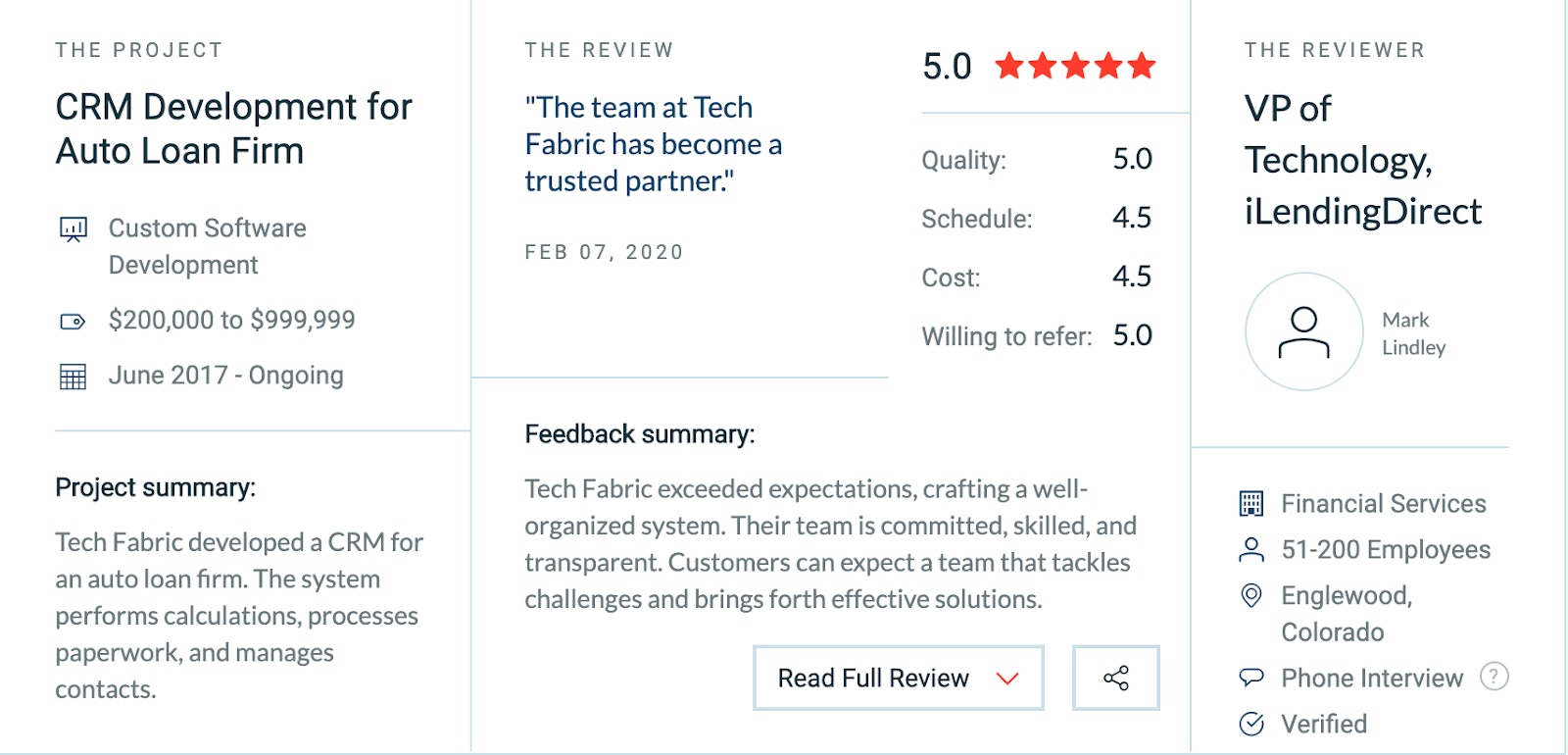 Being an accessible and efficient business digitally has increasingly become a necessity in today's world. However, that can be difficult to accomplish when online development has turned into something more complex and hard to navigate.

That's where Tech Fabric comes in. We understand digital development can be hard, but necessary. We want our clients to succeed, and to do that, we are here to guide them through development services like cloud infrastructure and product strategy.  Tech Fabric clients have reported over 60% increase in time to market and windfall profits as a result of our innovative methodology.

It brings us great joy to see our work recognized with such kind words on our Clutch profile.  Clutch is a DC-based B2B platform that allows former clients to leave reviews for solutions providers so future clients can have a better estimate of the experience working with them.

One of our recent reviews on Clutch is from iLendingDirect. iLendingDirect is an auto loan refinancing company that needed help building a CRM development system for calculations and contacts. We took on all the challenges, and used our expertise and creative input to build a successful system for our clients.

I appreciate their commitment and drive. From my experience, they hire the right people that are willing to do what's right. When things aren't going smoothly, I can call them, and they'll work through the issue with me. Their resources are top-notch. They go above and beyond, making our work better by bringing solutions to the table. Their team is always there for us.
VP of Technology
, iLendingDirect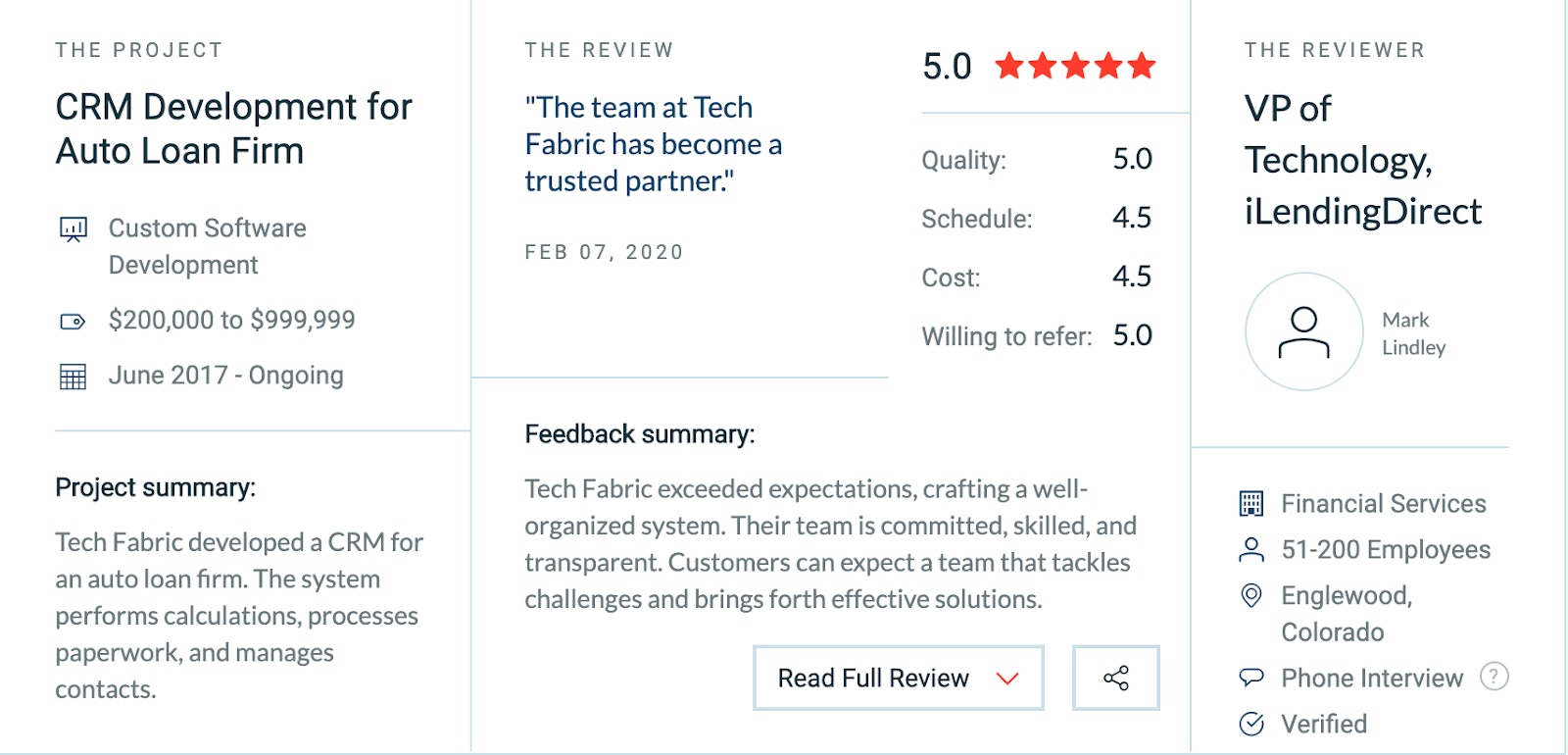 Another one of our clients who left a review include CU Direct Member Protection Services. With them, we crafted a process to transfer data from the internal management system to the cloud. Our work has led to greater customer engagement and resulted in efficiency on the client's end.
Tech Fabric is actually running the projects themselves now because of their skill in that regard. We quickly developed a level of trust with them over the consistency with which they delivered and were able to hand over every aspect of managing the infrastructure, communication, and milestones for the project. In terms of project management tools, we make use of DevOps techniques to make sure that everyone is always on the same page
President
, CU Direct Member Protect Services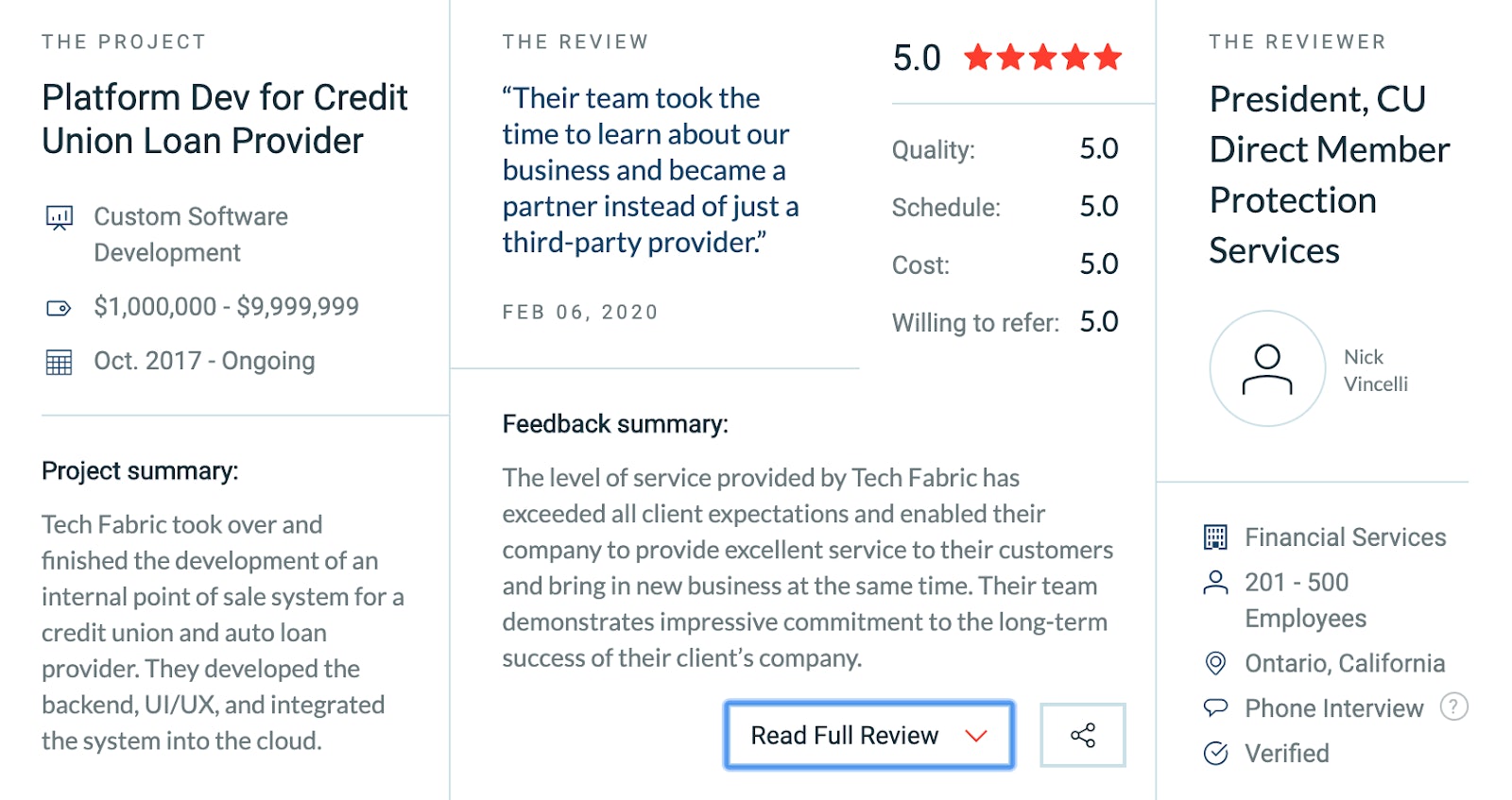 Besides Clutch, you can also find us on their sister site, The Manifest. The Manifest allows business to consult with experts for project success. They can use the expertise and data from the platform to find the solutions provider that best matches their needs.
If you are interested in learning more, please contact us!
Contact us